Swimming is a discipline practiced by more and more people. Knowing how to swim is essential for safety reasons, because in this way, if necessary, you can save your life in places such as swimming pools, lakes, the sea, but you have to be aware that swimming is not the same in a pool you know how to start swimming in the sea.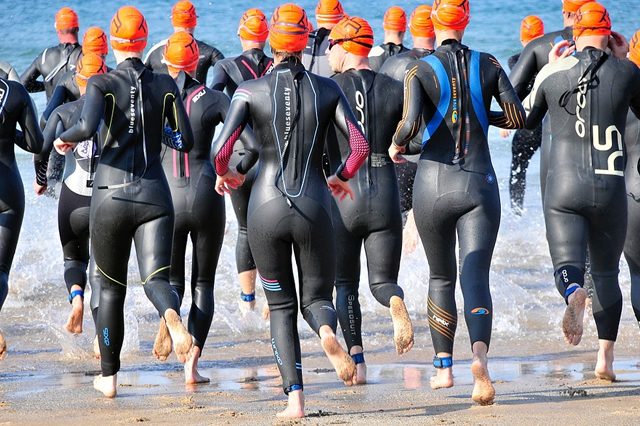 Being aware that there are differences between both modalities, different aspects must be taken into account, since in the sea the conditions, logically, are not the same, as we find ourselves in a much less controlled environment. The sea is an environment in which there are a large number of variables to control, such as waves, aquatic bugs, currents, which often counteract the greater buoyancy that is enjoyed by the salinity of the sea.
That said, throughout this article we are going to give you a series of tips on how to start swimming in the sea, that is, in open water. In this way, if you are a person who wants to start in it, you will be able to do it in the best conditions.
Swim in the sea with greater safety and confidence
Most of the problems that you may encounter when starting to swim in open water are focused precisely on mastering the new element, which is greater buoyancy but with greater instability. To this must be added the control of the fear that may be present, and of course, the anxiety that may be suffered when being in this environment.
To begin to control fear, anxiety and the elements, it is recommended that, in the first cases, you choose to use a swimming buoy in the sea, in addition to being aware of the times and distances in the pool.
The safety buoys in the sea are small inflatables that you can tie to your waist, using a strap, which will provide you with security by behaving in a similar way to a float, while offering water tightness to be able to carry objects and visibility. There are a large number of different models, so you can choose the one that best suits what you are looking for. In any case, they are an essential element when it comes to knowing how to start swimming in the sea.
It is also advisable to use neoprene in garments, as it offers extra buoyancy, which favors movement, and therefore safety. In addition, you have to remember that in order to be able to swim in the sea properly, it is advisable to first master the technique in the pool.
Where and when to swim
When it comes to knowing how to start swimming in the sea, it is important to follow the recommendations in the place where the activity is going to take place. That is, do not swim with a red flag. In addition, it is advisable to swim parallel to the shore, so that you can always have a visual reference, something key to being able to carry out this sport with greater safety.
It is also advisable that nobody is always in marked-out bathing areas, where boats, boats and jet skis are prohibited from entering, but in any case being aware that there may be some vehicles such as lifeguard jet skis and other services that allow us always keep an alert. Beyond the already mentioned safety buoy, it is advisable to swim with a brightly colored swimming cap, so that visibility can be increased.
Reference point
When swimming, it is advisable to always have a point of reference, which will help you not to go too far into the sea and avoid zigzagging. The lack of references can cause you fear or overwhelm, especially if it is accompanied by strong waves.
For this reason, before entering the water, try to look at possible reference points that you can take, whether they are trees, buildings, buoys, beacons…, in which you can keep looking while you enjoy swimming in the sea. The easiest way to notice them is when you are going to do side breathing, thus having the correct direction controlled at all times.
Heating
As in the case of pool training, when swimming in the sea it is important to warm up beforehand, both outside and inside the water. Do a few meters before you start swimming, since in this way you will be able to activate your muscles and warm up, thus avoiding injuries and at the same time being able to assess the state of the water. In the event that it is risky, it is best to give up and try another time.
Waves, weather and currents
If you are looking for how to start swimming in the sea, remember to have under control both the waves, which will make swimming difficult, as well as the weather and currents. The latter are often smooth, but others can make them difficult to deal with. Undertows, which are the currents that drag us to the bottom, can be dangerous, so you have to know how to identify them. If you find yourself in the middle of one you should not lose your calm, and above all do not swim against the current, as this will tire you. In that case you will have to swim perpendicular to the current and, when you are out of it, return to shore.